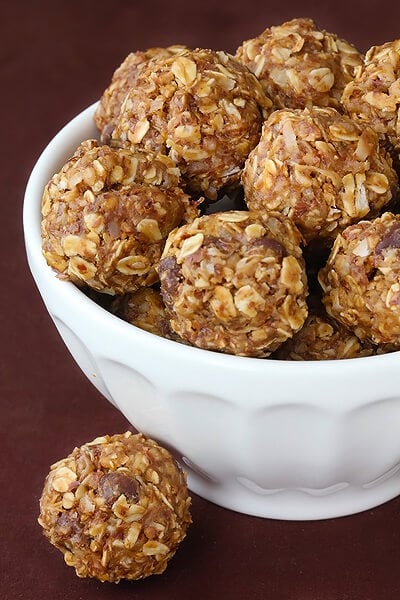 Ingredients
1 cup (dry) oatmeal (I used old-fashioned oats)
2/3 cup toasted coconut flakes
1/2 cup peanut butter
1/2 cup ground flax seed or wheat germ
1/2 cup chocolate chips or cacao nibs (optional)
1/3 cup honey or maple syrup
1 Tbsp. chia seeds(optional)
1 tsp vanilla extract
Method
Stir all ingredients together in a medium bowl until thoroughly mixed. Cover and let chill in the refrigerator for half an hour.
Once chilled, roll into balls of whatever size you would like. (Mine were about 1" in diameter.) Store in an airtight container and keep refrigerated for up to 1 week.
Makes about 20-25 balls.
(c) 2013 Gimme Some Oven. All rights reserved.
These turned out really good, except I didn't have toasted coconut, I just had regular sweetened flakes (I didn't know if you are just supposed to toast them yourself or buy them like that?). I didn't use the full amount because I didn't know if that would ruin the recipe. I should have added more oats, because they are pretty moist, but taste great!