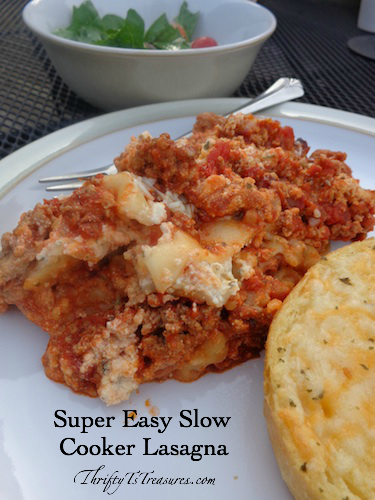 http://www.thriftytstreasures.com/2013/05/super-easy-slow-cooker-lasagna/
I absolutely LOVE lasagna and I make it quite often, so I was excited to get a slow cooker recipe for it! After I had it all together though, I realized it was exactly like my regular recipe for lasagna except I didn't have to boil the noodles.
Super Easy Slow Cooker Lasagna (from thriftytreasures.com)
1 lb ground meat (I used turkey)
1 cup water
15 oz. low-fat ricotta cheese
2 cups Italian cheese
1/4 cup grated parmesan cheese
2 tablespoons parsley
1 egg
6 uncooked lasagna noodles
24 oz. spaghetti sauce
Brown the meat and drain. Add spaghetti sauce and water.
Mix together ricotta cheese, 1 1/2 cups of Italian cheese, parmesan, parsley and egg.
Place 1 cup of the meat mixture into your slow cooker. Top with 3 lasagna noodles. (You'll need to break them to make them fit.), half of cheese mixture and 2 cups of meat sauce. Top with remaining noodles, cheese mixture and meat sauce.
Cover with your lid and cook on low for 4-6 hours. Top with remaining cheese and cover for an additional 10 minutes (or until cheese is melted).
's that easy

Slow
Cooker
Lasagna
I always use cottage cheese instead of ricotta in my lasagna so I substituted it here too.
The bottom ended up burning a little. It made a dark crunchy layer which I kind of like (just like the edge pieces on brownies, yum). The noodles got pretty soggy and I used a new generic spaghetti sauce that had kind of a chemically smell while it was cooking. I tried a little after about 5 hours, and it did not taste as good as it did the next day. I'm not sure why leftover lasagna always tastes better to me than fresh!